'TIS THE SEASON FOR HOLIDAY CLASSICS
I mean, how could we NOT bring back our BOREDOM BUSTERS series this holiday season?
BOREDOM BUSTERS PREVIOUS CHAMPIONS
SITCOM SHOWDOWN – FRIENDS
BEST SONG OF 1990 – STEP BY STEP
90s MOVIE MADNESS – PRETTY WOMAN
CHRISTMAS MOVIE MADNESS
Alongside Hand & Stone Massage And Facial Spa Peterborough, FRESH is putting
thirty-two of the best Christmas movies head-to-head to determine
which is the BEST festive film and we need your help!
Polls will open at 1:00 PM ET and close the following weekday at 1:00 PM ET.
WINNER – BEST CHRISTMAS MOVIE EVER
CHRISTMAS VACATION
VOTING CLOSED.  THANKS TO ALL WHO PARTICIPATED.
*TIP: If you'd like to make the bracket larger, zoom in using your web browser tool bar*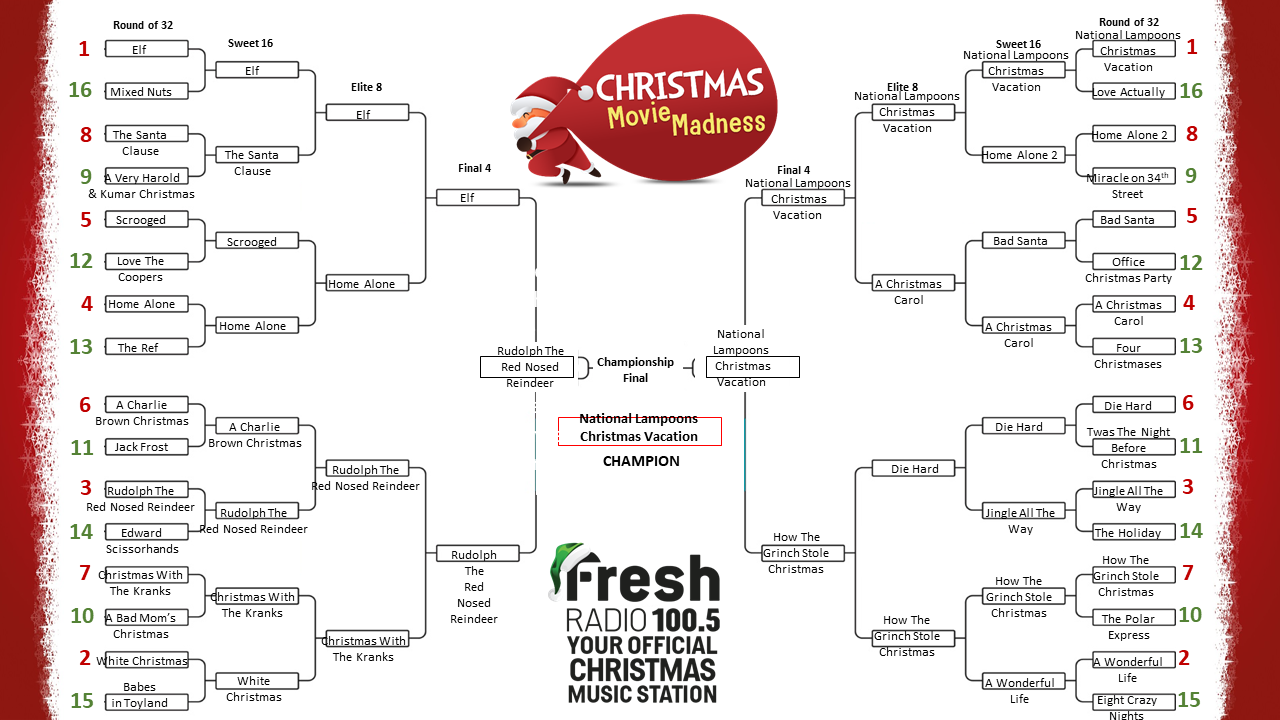 ---
Results
CHAMPIONSHIP FINAL 2
Christmas Vacation (1) 79% vs Rudolph the Red Nosed Reindeer (3) 21%
Final 4
Rudolph the Red Nosed Reindeer (3) 62% vs Elf (1) 28%
Christmas Vacation (1) 69% vs How The Grinch Stole Christmas (7) 31%
Elite 8 – Poll #2
Christmas Vacation (1) 72% vs A Christmas Carol (4) 28%
Die Hard (6) 44% vs How The Grinch Stole Christmas (7) 56%
Elite 8 – Poll #1
Elf (1) 66% vs Home Alone (4) 34%
Rudolph the Red Nosed Reindeer (3) 68% vs Christmas with the Kranks (7) 32%
Sweet 16 – Poll #2
Christmas Vacation (1) 96% vs. Home Alone 2 (8) 4%
 A Christmas Carol (4) 63% vs. Bad Santa  (5) 37%
Jingle All The Way (3) 30% vs. Diehard (6) 70%
It's A Wonderful Life (2) 22% vs. How The Grinch Stole Christmas (7) 78%
Sweet 16 – Poll #1
Elf (1) 63% vs. The Santa Clause (8) 37%
 Home Alone (4) 77% vs. Scrooged (5) 23%
Rudolph The Red Nosed Reindeer (3) 60% vs. A Charlie Brown Christmas (6) 40%
White Christmas (2) 37% vs. Christmas With The Kranks (7) 63%
Round of 32 – Poll #2
Christmas Vacation (1) 75% vs. Love Actually (16) 25%
Home Alone 2 (8) 58% vs. Miracle on 34th Street (9) 42%
Bad Santa (5) 67% vs. Office Christmas Party (12) 33%
A Christmas Carol (4) 58% vs. Four Christmases (13) 42%
Die Hard (6) 54% vs. 'Twas The Night Before Christmas (11) 46%
Jingle All The Way (3) 58% vs. The Holiday (14) 42%
How The Grinch Stole Christmas (7) 83% vs. The Polar Express (10) 17%
A Wonderful Life (2) 71% vs. Eight Crazy Nights (15) 29%
Round of 32 – Poll #1
Elf (1) 83% vs. Mixed Nuts (16) 17%
The Santa Clause (8) 91% vs. A Very Harold & Kumar Christmas (9) 9%
Scrooged (5) 70% vs. Love The Coopers (12) 30%
Home Alone (4) 91% vs. The Ref (13) 9%
A Charlie Brown Christmas (6) 65% vs. Jack Frost (11) 35%
Rudolph The Red Nosed Reindeer (3) 91% vs. Edward Scissorhands (14) 9%
Christmas With The Kranks (7) 70% vs. A Bad Mom's Christmas (10) 30%
White Christmas (2) 91% vs. Babes In Toyland (15) 9%